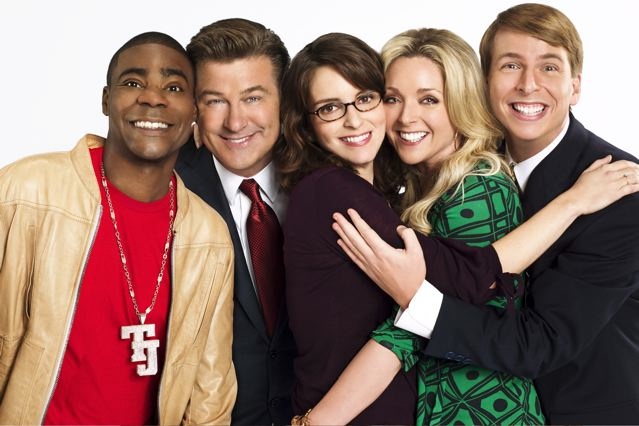 I AM IN LOVE WITH THIS SHOW!
I (Alli) have a list of
favourite
TV shows, which has been set in stone for a long time....


Seinfeld


The Office (US &UK)


Survivor


Absolutely Fabulous


Extras


The Vicar of

Dibley



Arrested Development


Entourage


Coupling
However recently I have made 2 additions. The first being Glee (however not the subject of this post), the other 30 Rock!
This show is so hilarious, it's almost perfect! Tina Fey created, stars in, writes and produces it and I just think she is amazing. Fey is also responsible for the brilliance that is Mean Girls, but that too is for another post.
This is about 30 Rock. I could ramble on all day about it, but it's better if you just see for yourself. In my opinion Season 1, Episode 5 is the best so far, but below is a selection of awesome scenes to get you on board...
The amazing combo of Alec Baldwin and Will Arnett
http://www.youtube.com/watch?v=5cp2Z712XtY
The genius of Tina Fey
http://www.youtube.com/watch?v=sMKrAR6YBDI&feature=PlayList&p=6A3A36CF6DD3BEB0&playnext=1&playnext_from=PL&index=16
Alec Baldwin, who can now do no wrong in my eyes...
http://www.youtube.com/watch?v=2xKBw8xL6WE
Dr Spaceman...
http://www.youtube.com/watch?v=nLM8xpsAURc
So please enjoy! Oh and btw JB Hi Fi have the first 3 seasons as a box set for about $55...now that's a good deal
So 30 Rock?
DECISION: "YOU JUST MADE THE LIST" AWESOME